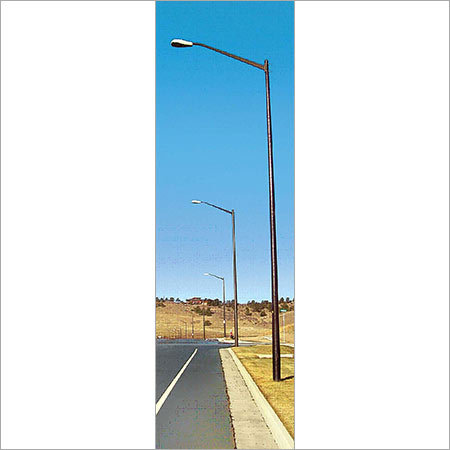 Product Description
Our company is an eminent Exporter, Manufacturer and Supplier of
Swaged Poles
, which are available at most affordable prices in various sizes and specifications. Our experts made it in accordance with defined norms of the arena using latest techniques.
Swaged Poles is offered in single hangs and double hangs.
It is made using ERW tubes under the guidance of experts.
As a result, our offered pole is extensively in demand.
Note: We manufacture it in promised time frame.
Advantages
The Skipper team of veterans in the steel pole business utilizes their individual and collective experience and knowledge along with plant & equipment to effectively complete any job within a customers' deadline, no matter what the design challenge.
The following are the advantages of Skipper Poles
Zero maintenance no pole fires, insect infestation or pole rot
Weighs 50-70% less than comparable concrete structures
Custom designs made to customer's exact specifications
Lasts longer - steel poles can last as long as 85 years with no shrinkage
No copper wire grounding required
Fully recyclable and non-toxic
Custom finished to your specification
Steel Pipes manufactured as per ASTM specification
Capable of galvanizing all sizes of poles in Single Dip
(Plant size: 14.1 m length x 1.1 m width)
Technical Specification :
Designation mm

Overall Length mm

Length of Sections

Outside Diameter and Thickness of Section

Approx Weight of Pole kg

Bottom mm

Middle mm

Top mm

Bottom mm

Middle mm

Top mm

410-SP1

7.00

4.00

1.50

1.50

114. x .65

88.9x .25

76.1x .25

62

410-SP2

7.00

4.00

1.50

1.50

114. x4.50

88.9x4.05

76.1x .25

7

410-SP

7.00

4.00

1.50

1.50

114. x5.40

88.9x4.85

76.1x .25

85

410-SP4

7.50

4.50

1.50

1.50

114. x .65

88.9x .25

76.1x .25

67

410-SP5

7.50

4.50

1.50

1.50

114. x4.50

88.9x4.05

76.1x .25

79

410-SP6

7.50

4.50

1.50

1.50

114. x5.40

88.9x4.85

76.1x .25

9

410-SP7

7.50

4.50

1.50

1.50

1 9.7x4.50

114. x .65

88.9x .25

97

410-SP8

7.50

4.50

1.50

1.50

1 9.7x4.85

114. x .65

88.9x .25

10

410-SP9

7.50

4.50

1.50

1.50

1 9.7x5.40

114. x .65

88.9x .25

110

410-SP10

8.00

4.50

1.75

1.75

114. x .65

88.9x .25

76.1x .25

70

410-SP11

8.00

4.50

1.75

1.75

114. x4.50

88.9x4.05

76.1x .25

8

410-SP12

8.00

4.50

1.75

1.75

114. x5.40

88.9x4.85

76.1x .25

97

410-SP1

8.00

4.50

1.75

1.75

1 9.7x4.50

114. x .65

88.9x .25

101

410-SP14

8.00

4.50

1.75

1.75

1 9.7x4.85

114. x4.50

88.9x .25

111

410-SP15

8.00

4.50

1.75

1.75

1 9.7x5.40

114. x4.50

88.9x .25

119

410-SP16

8.50

5.00

1.75

1.75

114. x .65

88.9x .25

76.1x .25

75

410-SP17

8.50

5.00

1.75

1.75

114. x4.50

88.9x4.05

76.1x .25

89

410-SP18

8.50

5.00

1.75

1.75

114. x5.40

88.9x4.85

76.1x .25

104

410-SP19

8.50

5.00

1.75

1.75

1 9.7x4.50

114. x .65

88.9x .25

109

410-SP20

8.50

5.00

1.75

1.75

1 9.7x4.85

114. x .65

88.9x .25

115

410-SP21

8.50

5.00

1.75

1.75

1 9.7x5.40

114. x4.50

88.9x .25

129

410-SP22

8.50

5.00

1.75

1.75

165.1x4.50

1 9.7x4.50

114. x .65

141

410-SP2

8.50

5.00

1.75

1.75

165.1x4.85

1 9.7x4.50

114. x .65

148

410-SP24

8.50

5.00

1.75

1.75

165.1x5.40

1 9.7x4.50

114. x .65

158

410-SP25

9.00

5.00

2.00

2.00

114. x .65

88.9x .25

76.1x .25

78

410-SP26

9.00

5.00

2.00

2.00

114. x4.50

88.9x4.05

76.1x .25

92

410-SP27

9.00

5.00

2.00

2.00

114. x5.40

88.9x4.85

76.1x .25

108

410-SP28

9.00

5.00

2.00

2.00

1 9.7x4.50

114. x .65

88.9x .25

11

410-SP29

9.00

5.00

2.00

2.00

1 9.7x4.85

114. x4.50

88.9x .25

125

410-SP 0

9.00

5.00

2.00

2.00

1 9.7x5.40

114. x4.50

88.9x .25

1

410-SP 1

9.00

5.00

2.00

2.00

165.1x4.50

1 9.7x4.50

114. x .65

147

410-SP 2

9.00

5.00

2.00

2.00

165.1x4.85

1 9.7x4.50

114. x .65

154

410-SP

9.00

5.00

2.00

2.00

165.1x5.40

1 9.7x4.50

114. x .65

164

410-SP 4

9.50

5.00

2.25

2.25

1 9.7x4.50

114. x4.50

88.9x .25

122

410-SP 5

9.50

5.00

2.25

2.25

1 9.7x4.85

114. x4.50

88.9x .25

129

410-SP 6

9.50

5.00

2.25

2.25

1 9.7x5.40

114. x4.50

88.9x .25

17

410-SP 7

9.50

5.00

2.25

2.25

165.1x4.50

1 9.7x4.50

114. x .65

15

410-SP 8

9.50

5.00

2.25

2.25

165.1x4.85

1 9.7x4.50

114. x .65

160

410-SP 9

9.50

5.00

2.25

2.25

165.1x5.40

1 9.7x4.50

114. x .65

170

410-SP40

10.00

5.20

2.40

2.40

1 9.7x4.50

114. x4.50

88.9x .25

128

410-SP41

10.00

5.20

2.40

2.40

1 9.7x4.85

114. x4.50

88.9x .25

15

410-SP42

10.00

5.20

2.40

2.40

1 9.7x5.40

114. x4.50

88.9x .25

144

410-SP4

10.00

5.20

2.40

2.40

165.1x4.50

1 9.7x4.50

114. x .65

160

410-SP44

10.00

5.20

2.40

2.40

165.1x4.85

1 9.7x4.50

114. x .65

168

410-SP45

10.00

5.20

2.40

2.40

165.1x5.40

1 9.7x4.50

114. x .65

178

410-SP46

10.00

5.20

2.40

2.40

19 .7x4.85

165.1x4.50

1 9.7x4.50

208

410-SP47

10.00

5.20

2.40

2.40

19 .7x5.40

165.1x4.50

1 9.7x4.50

221

410-SP48

10.00

5.20

2.40

2.40

19 .7x5.90

165.1x4.50

1 9.7x4.50

2

410-SP49

11.00

5.60

2.70

2.70

1 9.7x4.50

114. x4.50

88.9x .25

140

410-SP50

11.00

5.60

2.70

2.70

1 9.7x4.85

114. x4.50

88.9x .25

147

410-SP51

11.00

5.60

2.70

2.70

1 9.7x5.40

114. x5.40

88.9x .25

164

410-SP52

11.00

5.60

2.70

2.70

165.1x4.50

1 9.7x4.50

114. x .65

175

410-SP5

11.00

5.60

2.70

2.70

165.1x4.85

1 9.7x4.50

114. x .65

18

410-SP54

11.00

5.60

2.70

2.70

165.1x5.40

1 9.7x4.50

114. x .65

194

410-SP55

11.00

5.60

2.70

2.70

19 .7x4.85

165.1x4.50

1 9.7x4.50

227

410-SP56

11.00

5.60

2.70

2.70

19 .7x5.40

165.1x4.50

1 9.7x4.50

241

410-SP57

11.00

5.60

2.70

2.70

19 .7x5.90

165.1x4.85

1 9.7x4.50

256

410-SP58

12.00

5.80

.10

.10

165.1x4.50

1 9.7x4.50

114. x .65

186

410-SP59

12.00

5.80

.10

.10

165.1x4.85

1 9.7x4.50

114. x .65

197

410-SP60

12.00

5.80

.10

.10

165.1x5.40

1 9.7x4.50

114. x .65

208

410-SP61

12.00

5.80

.10

.10

19 .7x4.85

165.1x4.50

1 9.7x4.50

245

410-SP62

12.00

5.80

.10

.10

19 .7x5.40

165.1x4.50

1 9.7x4.50

259

410-SP6

12.00

5.80

.10

.10

19 .7x5.90

165.1x4.85

1 9.7x4.50

277

410-SP64

12.00

5.80

.10

.10

219.1x4.85

19 .7x4.85

165.1x4.50

292

410-SP65

12.00

5.80

.10

.10

219.1x5.60

19 .7x4.85

165.1x4.50

1

410-SP66

12.00

5.80

.10

.10

219.1x5.90

19 .7x4.85

165.1x4.50

22

410-SP67

1 .00

5.80

.60

.60

19 .7x4.85

165.1x4.50

1 9.7x4.50

261

410-SP68

1 .00

5.80

.60

.60

19 .7x5.40

165.1x4.85

1 9.7x4.50

281

410-SP69

1 .00

5.80

.60

.60

19 .7x5.90

165.1x5.40

1 9.7x4.50

02

410-SP70

1 .00

5.80

.60

.60

219.1x4.85

19 .7x4.85

165.1x4.50

12

410-SP71

1 .00

5.80

.60

.60

219.1x5.60

19 .7x4.85

165.1x4.50




410-SP72

1 .00

5.80

.60

.60

219.1x5.90

19 .7x4.85

165.1x4.50

4

410-SP7

14.50

6.50

4.00

4.00

19 .7x5.40

165.1x4.85

1 9.7x4.50

12

410-SP74

14.50

6.50

4.00

4.00

19 .7x5.90

165.1x5.40

1 9.7x4.50

6

410-SP75

14.50

6.50

4.00

4.00

219.1x5.60

19 .7x4.85

165.1x4.50

70

410-SP76

14.50

6.50

4.00

4.00

219.1x5.90

19 .7x4.85

165.1x4.50

80

410-SP77

16.00

7.00

4.50

4.50

19 .7x5.40

165.1x4.85

1 9.7x4.50

41

410-SP78

16.00

7.00

4.50

4.50

19 .7x5.90

165.1x5.40

1 9.7x4.50

67

410-SP79

16.00

7.00

4.50

4.50

219.1x5.60

19 .7x4.85

165.1x4.50

405

410-SP80

16.00

7.00

4.50

4.50

219.1x5.90

19 .7x4.85

165.1x4.50

416
Enter Buying Requirement Details
Contact Details
METAL CRAFT INDUSTRIES
6, Prime Point, Dream Valley Society, Singhada Talav, Nashik - 422001, Maharashtra, India
Phone :08045478345
Fax :91-253-2500339
Mr. Rahil Ahmed Siddiqui (Director)
Mobile :08045478345
Quick Services